Mica Sheets for the Medical Industry
Freshly cleaved muscovite mica surfaces have an outstanding even surface, are optically flat, clear, transparent, scratchless, and free from fingerprints. There are very useful for electron microscopy for the production of carbon support films, particle imaging, cell growing and thin film coating research. Muscovite mica sheets for the medical industry are also suitable as substrates for high-resolution atomic force microscopy studies such as DNA, DNA-protein.
Mica is also widely used by Medical researchers who are using mica for the making of carbon support films, thin-film coatings research, and some AFM studies where HOPG are used to taking place.
ASTM D-351 describes grading standards for mica.
Use Cases of Mica Sheets for the Medical Industry Include:
Medical slides
Diaphragms for oxygen-breathing equipment
Retardation plates in helium-neon lasers
Medical electronics
Radiation detector windows
Contact Us
View Products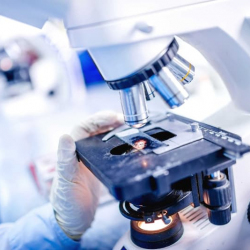 Research Mica
We can provide mica discs or slides to your custom specifications -  in various sizes and thickness down to .001"
View

Product